SCHOOL PROGRAMS
PRIMARY LEVEL : ages 3 to 6 at the Aquinas and Old Town Montessori Schools
The
primary curriculum
is a comprehensive three year program where children learn to compare, classify and clarify the world around them. Mathematical manipulative materials help the child to learn concepts of math, such as sequence, place value, operations and memorization of math facts. Language exercises include spoken language that develop vocabulary and phonemic awareness, while use of tactile and manipulative materials leads to development of writing and reading. Exercises in practical life improve motor skills, independence, self-control and concentration. The child also learns the basics of the world's geography, geology, history, astronomy and biology through materials and stories. Art and music are integrated into daily classroom activities.
Primary Program
ELEMENTARY LEVEL : ages 6 to 12 at the Aquinas Montessori School
The
elementary curriculum
continues to follow the unique development of the child age 6-12. The program at this level is expanded as widely as possible to enkindle interest in every area of culture, mathematics, geometry, language, history, geography, botany, zoology, earth science, chemistry, physics, art, music, crafts, drama, and physical education. The elementary children also participate in the Junior Great Books and Latin programs.
Our purpose is to lead the children toward Dr. Maria Montessori's "cosmic education, which is a complete vision of reality and man, and an ability to interpret both of them in their essence, nature, and reciprocal relationship." The Montessori curriculum of the lower as well as the upper elementary program is designed as a three-year cycle, each year building on the previous year. Parents should be committed to allowing their children to complete each three-year cycle for an optimal learning experience.
Elementary Program
Junior Great Books
A brief explanation of the program is available at
Welcome to the Junior Great Books Program!
The reading lists for our discussions are available here:
Junior Great Books
Suggested literature for primary and elementary children:
Latin
In today's classroom, Latin as a non-spoken language is neutral and universal. Because Latin does not depend so much on word order as it does on specific word endings for nouns and verbs, students must carefully analyze the grammatical components of each word and evaluate its meaning within the context. This complex process not only benefits the study of English grammar, but increases the student's creative thinking and problem solving skills. Since more than 60% of English words derive from Latin, verbal scores on tests such as SAT and ACT exams are significantly increased.
The Keepers of Alexandria
is a Latin program integrated into the Montessori elementary curriculum. The "Great Story of Alexandria" introduces students to the ancient city founded by Alexander the Great, which at the time stood at the crossroads of world-wide cultures. Throughout the texts are woven the stories of visitors from China, Egypt, India, West Africa, and other Arab countries who brought with them ideas and inventions that became the foundation of today's knowledge, - in philosophy, science, mathematics, medicine, and architecture. Stories and lessons inspire students to explore ancient cultures all the way to the Americas. Within this culturally inclusive setting of Alexandria, Latin was one of the nine spoken languages.
The study of Latin conveys a comprehensive understanding of how language works and facilitates the learning of other languages, especially the Romance languages like Spanish, French, Italian, Romanian, and Portuguese.
Parts of Speech
Montessori elementary teachers lead students through the classification of language with cleverly designed Montessori materials. An example of these materials is geometric symbols made up of a variety of shapes and colors which represent parts of speech. Students analyze sentences by placing geometric symbols for the appropriate parts of speech above words in sentences.
The Nine Basic Parts of Speech
and
Parts of Speech further Classification
may be downloaded as a reference guide for symbolizing sentences for spelling word homework.
Monarch Butterflies
Aquinas Montessori School students and teachers track the monarch butterfly migration each fall and spring to and from Mexico, and then record their observations. Students in the Primary classes of both schools also share in the Monarch experience by raising butterflies and studying their life-cycle prior to releasing them in October.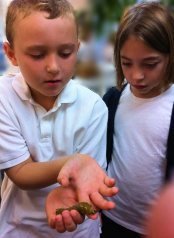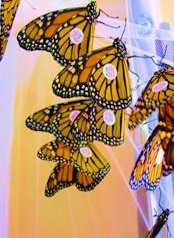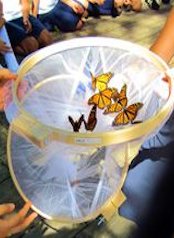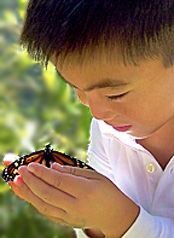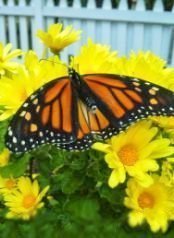 Tulips
The teachers record observations and Aquinas Montessori School students track the growth of tulips as the season changes from winter to spring. They discover how temperatures, sunlight, geographic location, and other variables influence plant growth and the full array of seasonal changes that take place in the springtime.