Admission Process
Aquinas and Old Town Montessori Schools use a rolling admission process that allows students to join our schools as spaces become available throughout the year and applications for our Primary classes (ages 3 to 6), Lower Elementary (ages 6 to 9) and Upper Elementary (ages 9 to 12) classes are now being accepted.
At Aquinas Montessori School we believe that the preschool and school years are a critical stage of cognitive, social, emotional and physical development, and we are dedicated and committed to the children and to the philosophy of Maria Montessori.
We strive to nurture each child's development by providing:
A warm, loving atmosphere where each child is respected and treated as an individual
Optimal class sizes where students work at their own pace and level
AMI certified teachers with Master's degrees
Opportunities to develop autonomy and creative thinking
Currently in our 53rd year, we have consistently produced highly confident, self-motivated learners, who are well prepared for their middle school years and beyond. Our families attest that they have indeed found a unique environment in Montessori classrooms where lasting values are emphasized, where kids are truly happy.
To start the admissions process please:
1. Schedule an observation by contacting our wonderful Administrative Director, Sheri Brennig (703 780-8484 or admissions@aquinasmontessorischool.com) at the Aquinas campus,
or Anastasia Ivanis (703 684-7323) at the Old Town campus, or use our
online form
to make an appointment.
2. Visit the Aquinas or the Old Town campus in person
3. Complete and submit your application
4. Visit the chosen campus for an in-depth tour - First Visit
5. Submit additional paperwork
We are looking forward to the opportunity to meet you and to see which of our campuses will be the best fit for you and your child.
Application Forms
Primary (ages 3 to 6)
Supporting Information
Tuition Schedule
Waiting List
At times, it is impossible for Aquinas and Old Town Montessori Schools to accept every student who applies because of limitations of space. Our waitlist is organized on a first come basis and we offer preference to those students who already have siblings attending our schools and also to students with previous Montessori experience. At Aquinas, priority is also given to students graduating from Old Town Montessori School.
The following guidelines are established to provide the admissions office with parameters for accepting students to Aquinas and Old Town Montessori Schools.
All guidelines should be consistent with the Aquinas and Old Town Montessori Schools' Mission.
A balanced student body of girls and boys and age distribution in every class is ideal.
Priority acceptance should be given to siblings of current and former students, children of alumni, and students transferring from another campus.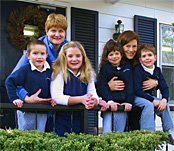 Aquinas students with their alumni parents
Dear Parents, thank you for your interest in the Aquinas and Old Town Montessori Schools.
Please visit us in person to get an inside perspective and to see if the school is the best fit for your child.

To observe one of the classes please contact the school for an appointment or schedule a visit through our online form.
During your visit our administrative staff will show you around the school and answer all your questions.
Looking forward to meeting you.

Sincerely yours,
David H. Futrell, Director
We strongly suggest that parents schedule an observation or a tour before sending in their child's application but we do understand that it is not always possible. In this case, once we receive an application, we will contact the family to schedule a first visit for the applicant.
During the First Visit a child will spend about 20 to 30 minutes in the classroom with a teacher having a few lessons. It is an opportunity for the child to experience our Montessori environment while the parents discuss details and particulars of school.
We invite you to become a part of our wonderful Aquinas Family and hope to see you soon!