by Linda Tahmassebi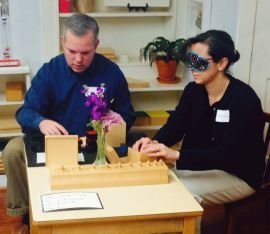 A "Silent Journey" is a relatively new way to experience the Montessori Classroom. So many parents, after observing our classrooms, have commented that they wish they were "Montessori children"!

Aquinas debuted its Silent Journey last weekend. The purpose is to offer parents an opportunity to see their child's classroom through the eyes of their children. And, as one teacher put it, "We love what we do and we wanted to share it with you."

The nature of the event limits the number of attendees. We had 17 eager parents ready to experiment during this event.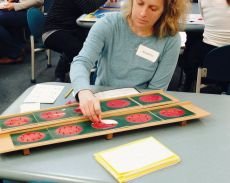 The entire staffs of both our campuses were on hand to be guides through the journey. It was separated into two parts, the first giving the event its name of "silent". As a group, the parents moved from a primary to lower elementary to upper elementary classroom. The group explored with their eyes, neither touching nor speaking, the materials on the shelves in the classroom. After spending about 10 minutes in each classroom, the group reconvened and shared their observations of not only the materials, but also the environment in general.
It was noted by several parents that the furniture grew in size, perfectly matching the size of students in each room. And that some materials in the primary classrooms were also in the elementary classrooms!
The next step offered parents to have actual lessons and see how the use of materials becomes more and more complex with each level-especially the math work. It is so wonderfully supportive to have manipulatives available for a student's use at all levels. It is so much easier to comprehend abstract math concepts when you can touch a representation of a number or a formula! A student new to numbers can feel the difference between one unit in one hand and a cube comprised of a thousand units in the other!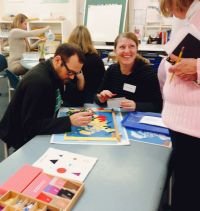 One parent followed the work of the trinomial cube beginning in primary all the way to upper elementary! In the primary class he learned to build a three dimensional representation of the trinomial equation- BLINDFOLDED! And, by the time he reached the upper elementary classroom, he was writing out the corresponding formula.
In the language area of the primary classroom was the Logical Adjective Game. There were two stacks of cards, one of nouns and the other of adjectives. After laying out the nouns in a line on the table, the student matched an adjective with each noun. After matching, the student reads the combinations-sometimes they don't make sense; "soft rock", or "clear cat". These kinds of errors engage the child as they try to correct their pairs! When the task was completed, to make the work ready for the next friend, mixing the words in each stack was encouraged! Even cleaning up was motivational.
It was a wonderful morning. So much insight was gained by the participating parents. They were all Montessori students for the day.